Adventures in Shapeville park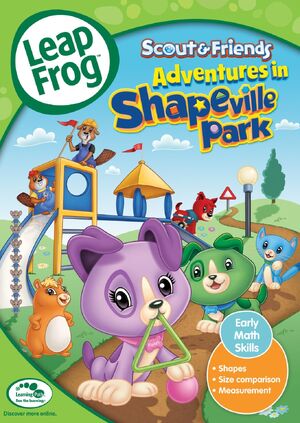 DVD guide
Year
January 22, 2013
Run time
35min
Rating
N/R
            Adventures in Shapeville Park is a Scout and Friends DVD.
Review
Scout & Friends head over to Shapeville in this delightful skill-building adventure that shows what a circle, square and triangle can really do! A new playground is being built at the park by the Beaver Brothers and soon the pets have their hands full helping with the construction. With the guidance of "measuring" mice, the pets learn how to measure out all the various shapes, sizes, and dimensions needed to build the perfect parts of a perfect playground!
Plot
The gang meets a new kid named Dash, they zoom over to shapeville park to help the beaver brothers build a playground.
Characters
Major Characters
Travia
Scout and his friends learn about shapes
RUN TIME: 31 MINUTES
Gallery
if you want to be see gallery click here !