My Pal Scout

Name

My Pal Scout

Type

Plush/interactive

Features

Music, activities, personalization and lights.

Price

$15.00-$30.00

Color(s)

Green, White, Red, Purple, Blue.

Manufacturer

LeapFrog enterprises
Description
The My Pal Scout, by LeapFrog Enterprises, came out in 2009, like the My Pal Violet he had the same voice actor.
My Pal Scout can be customized with the user's favorites, such as favorite color and animal. When you squeeze his paws, he does various things based on which paw is squeezed. These can include singing a song, saying a phrase or playing soothing bedtime music.
The toy was reissued in 2014 with a new version, along with Violet. The new version features the LeapFrog logo embroidered on the character's left ear. No longer programmable by a USB cable, the device can instead be programmed without having to take it out of the box, using a phone, computer, or other device. The toy now offers the option of playing 5, 10 or 15 continuous minutes of bedtime music, rather than the 2, 5 or 10 of the previous toy. However, certain options for favorites were removed and the user can no longer customize music and songs played. There are three different "modes": Music, Learning, and Off.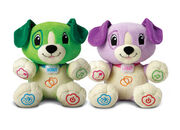 This description was taken from Leapfrog.com do not modify it!

• Connect Scout to your smart phone, tablet or computer for easy personalization while he's still in the box. • Teach Scout your child's name and favorite things for personalized learning in 15+ activities. • Listen along to 40+ learning songs, melodies and lullabies, for active daytime fun and nighttime soothing. • Teaches first words, feelings and emotions, colors and counting. • Ages 6-36 months. • Style or version may vary
Gallery
Stores
Ad blocker interference detected!
Wikia is a free-to-use site that makes money from advertising. We have a modified experience for viewers using ad blockers

Wikia is not accessible if you've made further modifications. Remove the custom ad blocker rule(s) and the page will load as expected.