Phonics farm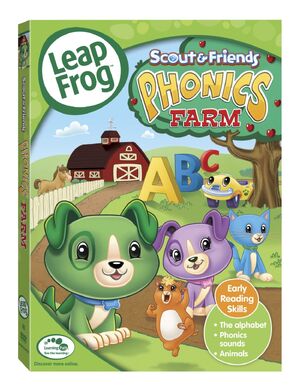 DVD guide
Year
November 8, 2011
Run time
30min
Rating
N/A
Phonics Farm is a Scout and Friends DVD.
Review
Join Scout and his friends as they learn letter sounds with the help of some amazing animals! Scout, Violet, Eli and Penny long to learn about new animals. When their magical toy car, Axle, whisks them away to a farm, they discover a remarkable alphabet collection and ABC antics ensue! As the friends get in shape with an athletic alligator, console a sad seal, converse with a High-Pitched Horse and more, they make their way through the entire alphabet!
Plot
Join Scout, Violet, Eli, and Penny as they learn about letters.
Characters
Major Characeters
Trivia
The very first Scout and friends DVD
RUN TIME: 31 MINUTES
Gallery
Ad blocker interference detected!
Wikia is a free-to-use site that makes money from advertising. We have a modified experience for viewers using ad blockers

Wikia is not accessible if you've made further modifications. Remove the custom ad blocker rule(s) and the page will load as expected.